| | | | |
| --- | --- | --- | --- |
| Christian Island UFO Report | | | |
Christian Island, Georgian Bay Ontario March 26th 2010 12:15 PM
The witness writes:
"I have had many sightings at this particular location (both day and night) over the years but until now I have not ever had a camera handy. It is interesting to note that the area of this and many more sightings is a regular corridor for air traffic traveling to Northern Ontario and points west."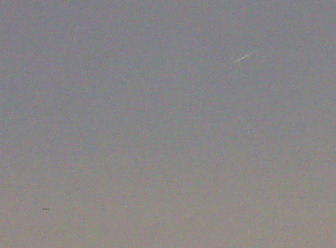 "This is the 2nd UFO experience inside of a week for me and I snapped this pic while on my lunch break on the western shore of Christian Island directly facing Collingwood and the Blue Mountains. The weather was clear and cold -5 by the water with a N\E wind at 20-30 mile per hour. The sky was cloudless.
The pic was taken using a Blackberry Curve 8300 and is untouched with 3 times zoom. The object (UFO) is in the bottom left hand side. If you zoom in on the object it does not deviate from its cylindrical shape. You can clearly see a passenger jet in the top right hand corner. The jet was flying south directly along the corridor that all jets use going north to south and vice versa. I estimate that the object was approximately 2,500-3,000 metres from my location. I am ex military and well trained and fairly accurate with distance estimation.
I took the pic upon seeing the object zipping along west to east at an incredible speed, much, much faster than a conventional aircraft of any description. I took another pic (see below) within 4 seconds of this one but the object was long gone having sped off beyond sight."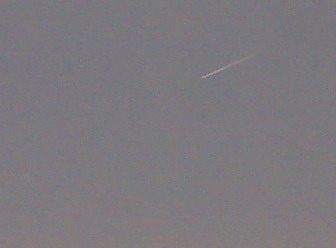 "The third pic that I have provided shows the area below where the pics were taken. The small Island protruding off of an area known to locals on Christian Island as West Beach, is approximately 1,000 metres from my position. This was snapped about 15 seconds later and the jet is not in this pic but was still flying about 45 degrees right of the small Island."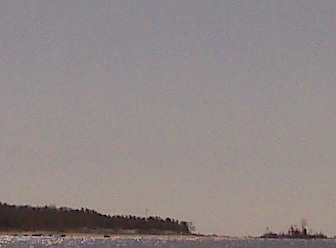 Our thanks goes out to the witness for sharing this report, and these photos including the comparison shots with us. If you have seen something similar particularly at this place, date, and time please contact us at This e-mail address is being protected from spambots. You need JavaScript enabled to view it Your privacy will be protected.